Main Content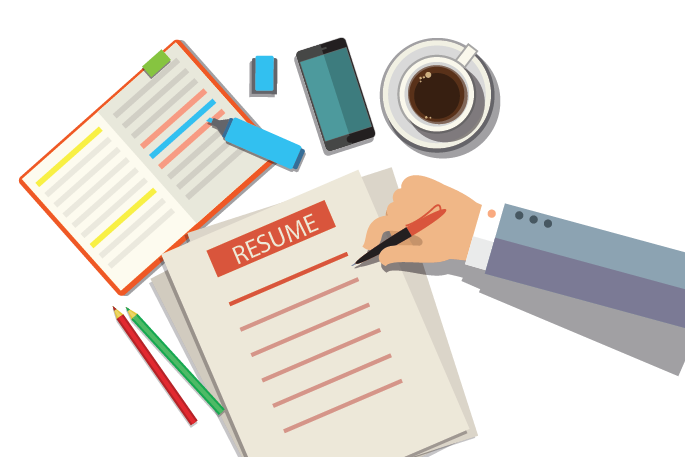 When you find an opportunity that excites or energizes you, you want to be ready to be first in line to apply.  You don't want to scramble, worry and wonder if your professional tools are ready. We want you building a resume or refining the one you have in such a way that we fully leverage your Wake Forest experiences to land opportunities you want.
How do you collect all the "data" from your experiences and skills to display in a sharp, one-page document that screams, hire me!? Through these steps, you'll be ready to cut through the competition with a strategic mindset and competitive edge to help you land the interview ahead of your competition.  
This is an ongoing process and there is always something to be refined, added or removed. We are always updating and improving.
Step 1: Know what it is and what it is not
What is a Resume?
A quick-glance, one-page document highlighting your backgrounds, skills, and experiences. The presentation of a personal brand preceding the face-to-face interaction with a potential employer. A snapshot of the skills and experiences you have that align with the job you want.
What a Resume is NOT
A multi-page novel telling every detail of every experience you've had. Or, an inaccurate representation of who you are and what you've accomplished. Or, listing your job duties and not accomplishments.
Step 2: Think Before You Write
Think you don't have any experience? Not true! All experience matters. Internship and job experience is obvious, but there's MORE! From organizations on campus, clubs, philanthropy, event planning, fundraising, projects you manage, work study, campus jobs, and all of the leadership roles you hold, the initiatives you take and organize…Your experiences are endless!
Before you begin listing every experience of your undergraduate career… sit back and think.
What are the skills necessary to be the best for this position?
What are the keywords and needs this company/employer is looking for? Have you used "Word Art" or another job scanning software to evaluate the key words?
How do MY experiences and capabilities align with THEIR needs they've stated in the job description? Think curricular, volunteer/leadership, work-related
The job description is your guide – make sure to emphasize in detail, skills and experiences in your resume and examples that are consistent with the skills the company/organization is looking for in their next hire. Remember you can use software tools to identify keywords that boost your resume.
Step 3: Accomplishment Statements
Accomplishment statements are used when describing your experience to show an employer proof of your skills, accomplishments, and results. They highlight your skills and demonstrate how you can help an employer by citing specific results. Simply listing duties or responsibilities from your job description is not enough – focus on your skills and achievements – how your efforts impacted your position, your project, or your organization.
You must always be revisiting the effectiveness of your accomplishment statements especially as a young professional. You must use the framework of the professional world to explain your liberal arts education and what you can do for an employer.
Give yourself a title that authentically explains what you did in a role not just what the job title was for the organization. For example, if you are a member of a group, what kind of a member are you?  Do you help with philanthropy or fundraising? Then let's call you "Fundraising Member".
If you were helping or assisting, think of the accomplishments you achieved as part of the team and lead with that: "Increased student engagement in campus-wide fundraising event for 1500+ participants collaborating with a diverse group of student leaders to raise $23K for Brian Piccolo Foundation.  See the difference? Lead with the accomplishment or impact.
To get in the mindset of writing result/accomplishment statements, ask yourself the following questions:
What was the purpose of this work? How was this work relevant to the organization?

What goals was I contributing to? What value or benefit did I add?

How did I go above and beyond basic job duties? How did I stand out relative to my peers?

Did this work save time/money, increase customer satisfaction, design/improve a process or policy, etc.? Did I achieve more with less? Did I complete something ahead of schedule/budget?

Did I receive a promotion and/or recognition during my employment? When describing your experience, you want to be specific, action-oriented, and result driven.
Think about what the employer wants and how your skills align.
Examples of basic (because who wants to be basic?) vs. professional accomplishment statements:
Camp Counselor
Basic
Worked with kids at an overnight camp

Led daily activities
Professional
Collaborated with a team of six peers to implement educational, individual and group recreational and social activities during four two-week sessions at a traditional girls' overnight camp

Led a group of five, experienced cabin leaders and three leaders-in-training for a division of 56 female campers ages 10 – 12 during four successive two-week camp sessions
Finally, Results – The qualitative description has been great, now it's time for some quantitative results, and accomplished outcomes! How many students did you mentor in service club? What was the increase in awareness after your campaign?
Step 4: Guidelines
These guidelines increase your chances of getting an interview. And remember – this is a direct snapshot of the skills and capabilities you have for the job you want. The personal brand preceding the face to face.
One page
10 to 12 size font in a professional style *no colors or fancy fonts*
Include job title, organization, location, date, the impact you had and accomplishments that demonstrate your skills for the job
*in most-recent chronological order*
Make sure you're positive and honest about your experience, skills, and capabilities
Proofread – correct punctuation, grammar, and syntax – flawless!
Order bullets by most relevant to the job description
Step 5: Select a Layout
Use this template if this is your first resume!
Resume for those looking in the STEM industries
THE standard resume template
(most common)
A Curriculum Vitae is often used for graduate school
Theatre, music, and dance
Step 6: Use sample accomplishment statements