November '23 News
Can you believe it is November already? Since Thanksgiving break is Nov. 22-26, the OPCD will be sharing "Wake on Break" tips with your student in The OPCD Brief by email on Monday, Nov. 13. Encourage your student to review and act on these tips – like utilizing LinkedIn Learning and Career Core to build valuable skills – to dramatically increase their internship and job prospects and add new skills to their resume and LinkedIn profile. Learn more on the OPCD Parents & Family web page, which includes new videos of our recent OPCD webinars.
College Students
Webinars
In October, the OPCD hosted three recorded webinars (below) designed to inform parents of 1) seniors,2)  juniors and sophomores, and 3) first-year students about the job market, our career development resources, and how your student can utilize the OPCD given their unique interests and situation.
Fall break
Over the break, please encourage your student to make progress on their career exploration, internship search, or job search. Make use of LinkedIn Learning to build valuable new skills and knowledge. To learn more about where Wake Forest alumni from their major are employed, encourage them to find WFU alumni through the LinkedIn Wake Forest Alumni page. 
Coaching availability
Always remember that OPCD Career Coaches are available to support your student, no matter their major or career interest. Schedule an appointment on Handshake or drop in with quick questions Monday-Thursday from 1:30 to 4:30 p.m.
School of Business Students
Whatever your student plans for the summer of 2024 and beyond, the School of Business career team is here to support their efforts. Career coaches are always here to help your student. Your student can schedule an appointment through Handshake whether they are abroad or on campus.
Job/Internship Search
If your student is seeking a job or internship or is just beginning to explore, encourage them to attend our spring career fair from noon to 4 p.m. on January 24, 2024, in the Sutton Center on the WFU campus. Representatives from the following sectors are expected to attend: healthcare, education, government, nonprofit, consumer products and services, financial services, etc., and are eager to chat with Wake Forest students about their organizations and internship and full-time roles. Student registration will open following the winter break, with more detailed information and career fair preparation shared in early January. Students should register here. Detailed information about attending organizations and career fair preparation will be available for students after winter break.
---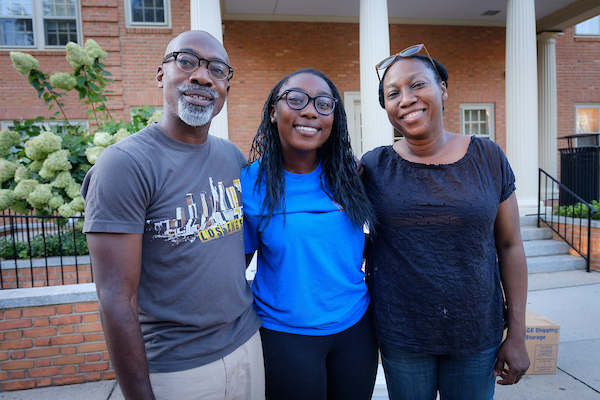 What can you do as a parent?
Parents play a critical role in their child's college experience and their decisions for the future. However, the world of work is quite different than 30, 20 or even 10 years ago. In order to give your student sound advice, it is essential for you to understand the environment, resources and opportunities available for your student. You can play an integral role as your student navigates through their time at Wake Forest and makes plans for their future.
Information for Parents & Families by Class
How can I guide my student through the college-to-career process?
You know the furniture assembly instructions that are impossible to follow especially when you have missing parts? Our Ready 7 process is not like that! We not only provide 7 achievable steps for students to follow, but also the tools and resources to complete them in order to be fully "career and life ready." As a supporter of your student, we are providing you with a Ready 7 guide which includes language on how to help your scholar navigate the process.