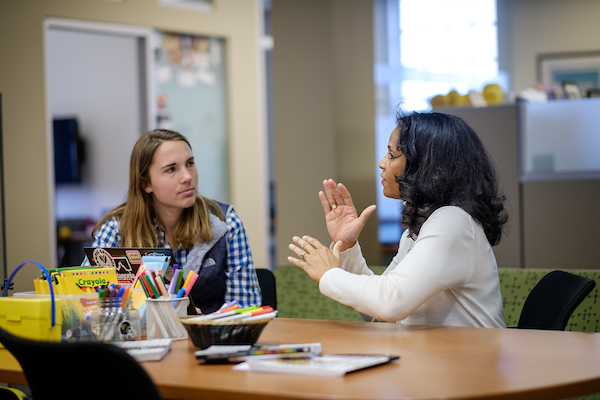 Why would you need a career coach?
It helps to have someone to partner with as you figure things out.
Whether you know the exact career field you plan to work in or have no idea what the future holds, one-on-one career coaching is a valuable resource to help you reach your goals. Career coaches can help you identify your strengths and talents, create the stories you will tell at interviews and in your "elevator pitch," refine and improve your resume or cover letter, get you ready for your upcoming interview, assist you in clarifying your career path and job search, or help you find an internship or other relevant experience.
---
The OPCD serves all Wake Forest first year and sophomores as well as juniors and seniors majoring in the liberal arts. Whether you don't know where to start or feel like you already have a plan, we can help you determine your next steps. Feel free to bring a draft of your resume, or thoughts on jobs or careers that have interested you in the past to help start your first appointment. After your 45 minute career coaching appointment you will have:
An action plan and clarity about your next steps.
Resources specific to your direction.
Schedule an Appointment
You can schedule an appointment online in Handshake, by phone, or stop by our office (for 15 minute drop ins only).
Call 336.758.5902
Stop by 230 Reynolda
Have a quick question?
Walk-in Hours (15-minute limit)
Monday – Thursday • 3-4:30 pm
OPCD – Reynolda 230
No need schedule an appointment – just walk in for a 15 minute session. You can always schedule a follow-up if you need!
Need your resume, cover letter, or LinkedIn reviewed?
Monday – Thursday • 1:30-4:30pm
OPCD – Reynolda 230
No appointment necessary – just walk in. Resume reviewers are standing by.
Are you going to miss your appointment?
Did you no-show for an appointment without notifying the OPCD?
If you find that you can't keep your appointment, please cancel your appointment in Handshake at least 24 hours in advance or call the office at 336.758.5902 so that we may free up the time for another student. If you are a no show for your appointment, keep the following policy in mind:
After 1 no-show, you must send a letter of apology to the affected coach.
After 2 no-shows, you will not be able to make another appointment during this academic year, however you may utilize the OPCD's walk-in appointments and resume reviews only.