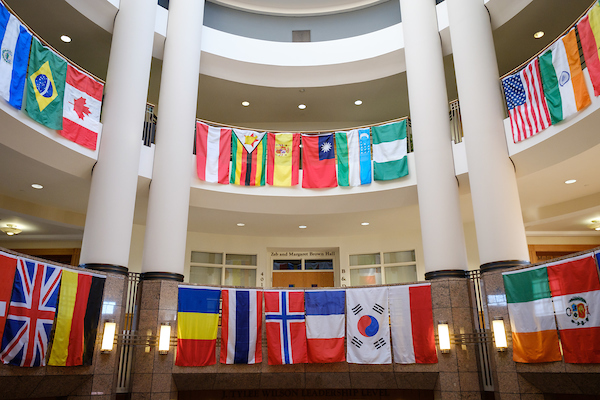 Overseas after Graduation
The possibility is more achievable than you may think.
Here are commonly asked questions that students have, as well as resources to use when searching for international opportunities . Should you have additional questions, come meet with a coach to talk through your options.
---
Commonly Asked Questions
Challenges
A few hurdles may come along with jumping overseas. Obstacles such as work authorization, medical evaluations, security clearances, fierce competition, and foreign bureaucracy can make the procedure time-consuming and difficult.
Benefits
Working internationally can help you grow both personally and professionally, as well as developing a multitude of skills including: cultural sensitivity, flexibility, interpersonal skills, patience, independence, assertiveness, self-confidence, open-mindedness, and strong communication skills.
Teaching Abroad
Teaching abroad is one of the easiest ways to break into the international arena. A number of U.S. and foreign educational organizations, such as JET and WorldTeach, offer structured teaching positions, which include training, job placement, and housing.
Government and International Organizations
The Foreign Service and the Peace Corps offer opportunities for entry-level personnel to live and work abroad almost immediately. Familiarity with a foreign language, experience abroad, and a superior academic record can certainly help you get a foot in the door.
Nonprofits
Nonprofits offer the opportunity to get involved in a number of important international causes and programs, including healthcare, human rights, environmental concerns, and education. Look into finding an entry-level paid position in one of the numerous international nonprofits headquartered in the United States for those first steps in the door.
Private Business
Many import-export companies, contracting and consulting firms, educational tour organizations, and a host of other private businesses are increasing their international interests and activities.
Other
Hotels, restaurants, resorts, retail shops, and bars are only some of the organizations offering employment for the student or recent graduate seeking a temporary international experience. Work abroad programs, such as BUNAC, are helpful in securing a work authorization for these types of positions.
Work Visas
To learn more about a work visa and apply online, visit your country's embassy or visa website as well as check out the country guides in Going Global for an overview of the H-1B work visa process.
Curriculum Vitae (CV)
Gain insight on resume and CV writing from Going Global or Passport Career with information tailored to each country.
Go to the ZSR Library website, http://zsr.wfu.edu.
Select Find a Database, then under Business and Economics, select Company Directories.
Select Corporate Affiliations.
From the tool bar, select the Subscriber Tools pull down menu.
Select Company Search, then Advanced Search.
On the first line under Criterion click on the drop down menu and select "Parent Country," then on the adjacent line under "Value" type in the name of the country in which you are interested, or select United States.
On the second line under Criterion click on the drop down menu and select "Country," then on the adjacent line under Value type in "United States" or the country you are interested in.
Select "Search."
---
International Resources (PDFs)
**Some of the following organizations and programs may require that you pay a fee for participation.**