Main Content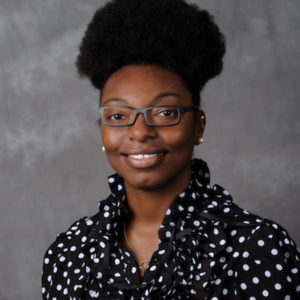 Courtney Nance
Operations and Project Assistant
Courtney loves talking with everyone in the office and with students; while at work she's very extroverted, Courtney considers herself very quiet and loves her alone time as an introvert.  
A fun fact about Courtney: 
Loves a good concert or comedy show because they bring everybody together and allow them to let go of all their worries and anxieties and just be present for the event. Ask her what she did any weekend and she'll usually say a comedy show. "Say comedy, food or music, and I am there!" 
A piece of advice: 
"During these four years of college, take advantage of opportunities to network and live your life for yourself and not for others

."
Courtney, who's from and lives in High Point, graduated from UNC-Charlotte in 2015. While a student, she began working at the campus's alumni center. Courtney was going to pursue another career path, but on the day she was considering taking another job, Courtney got a call back from the hiring manager and said it felt to her like a sign that this was the right job for her, and she continued working for the office after graduation. Later, however, her position at UNC-Charlotte was eliminated, so Courtney applied to be an administrative assistant at the OPCD because the role sounded similar to her previous one. Now, Courtney says that decision led her to even more opportunities, because she's seen how much Wake has to offer. After working with Courtney for a while, OPCD Associate Vice President Lee Svete and Office Operations Manager Vicki Keslar envisioned the administrative assistant role evolving into something bigger, which has allowed Courtney's part in the operations team to expand. In addition to being the first face greeting students when they come into the office, Courtney also works with event planning, strategy, and logistics.
Recent Posts
June 19, 2020

November 4, 2019

September 23, 2019