Main Content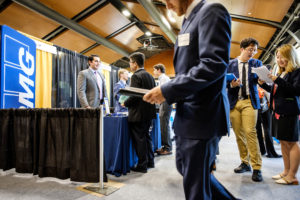 To help an increasing number of career-oriented students gather information and learn about all types of career fields and industries, job roles and functions, and organizations and the internship and job opportunities they offer, Wake Forest University held its semi-annual career fair in a new location, the Sutton Center, for the first time on Wednesday, September 11, from 12-4 p.m.
The 2019 Fall Career Fair was attended by 300% more students than ever before, with over 1,100 undergraduate students from all grade levels and graduate students from across 10 programs coming to connect with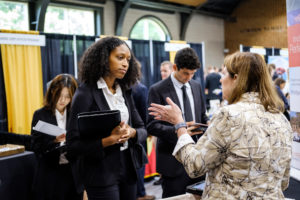 over 75 employers from a wide variety of industries including accounting, consulting, education, finance, food and beverage, government and legal, healthcare, human resources, insurance, manufacturing and packaging, marketing, nonprofit, research, retail, sports, telecommunications, transportation and logistics, university programs, and more. When students registered for the Career Fair, they were given access to a list of all employers who would be in attendance to help them research in advance, and when checking in on the day of the event, students received a worksheet that allowed them to locate these employers based on their career interests.
Both students and employers found the new space, which allowed booths to be spread out over areas the size of two basketball courts, to be energizing as it had a professional look and feel, lots of room, and great acoustics, which allowed more connections and conversations to be facilitated.
The next career fair will be held on January 22, 2020, and will also be from 12-4 p.m. The Spring 2020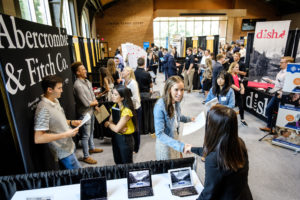 Career Fair, like the Fall Career Fair, will provide students of all class years and majors with the 
opportunity to speak with representatives from employers who are seeking top talent for their job and internship opportunities. Career Fairs are open to both students who know
exactly what they want to do and where they want to go and to those who are in the exploration process and want to know what options might be available to them. Registration on Handshake is now open.
Recent Posts
April 14, 2021

February 1, 2021

January 29, 2021