Main Content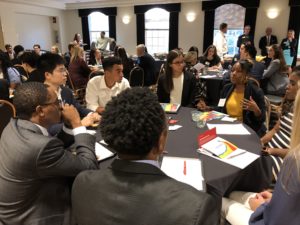 To connect diverse students from across the Wake Forest University community with many different backgrounds and identities, the University's Office of Personal & Career Development hosted its fourth semi-annual Diversity Matters event from 5:30-8:30 p.m. on Tuesday, Sept. 10, the night before the WFU Fall Career Fair.
Diversity Matters is an all-inclusive event that brings students and employers together for career success. This optimal networking opportunity allows students to ask questions of representatives at top-notch organizations and learn about their diversity programs, recruiting initiatives, and potential positions.
The student-centered event matched 220 student attendees—all of whom hold unique gender, racial, or ethnic identities, first-generation statuses, sexual orientations, socio-economic statuses, athletic affiliations, faith backgrounds, abilities and disabilities, values, preferences, beliefs, communication styles and more—with three employers each based on their career interests. Over 35 companies attended, including Abercrombie & Fitch, American Enterprise Institute, Belk, Capco, Deloitte, Dimensional Fund Advisors, Dish Network, EY, FactSet Research Systems, General Mills, GlaxoSmithKline, Red Ventures, Sonoco Products Company, Teach for America and Vanguard.
The night began with a joint keynote address from Student Government President Mellie Mesfin and Speaker of the House Miles Middleton. Then, after sitting down with their three different student-employer groups over the course of the night, students were also invited to connect with any other organizations in the room they'd like during a period of open networking.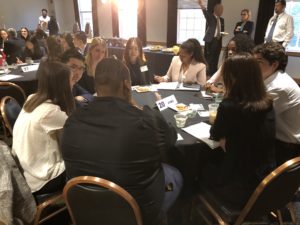 "Connecting diverse students to employers means making sure they literally have a seat at the table," said Cheryl Hicks, career coach and associate director of diversity and inclusion programs.
Diversity Matters was designed to reach students in all stages of career exploration and job searching and give them that seat at the table, especially those who may not have felt like they had a place the career fair; however, at the end of the event, attendees were strongly encouraged to also attend the career fair the next day to follow up and reconnect with those they met to demonstrate their interest, now that they'd had the opportunity to assuage their fears and anxieties and connect on a personal level with recruiters that value them.

Diversity Matters was pioneered in January, 2018, beginning with just 11 employers and 80 students, to create a new way for employers who are committed to continuing to diversify their staff and who value, celebrate, support, and affirm unique identities and experiences among their talent to hire Wake Forest University students who are from communities and demographics that may have been traditionally underrepresented or marginalized, whether on campus or in the hiring market.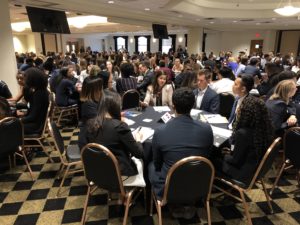 Diversity Matters connects these inclusive employers to candidates they want to hire by providing extra time and a more intimate setting for students from all undergraduate and graduate grade levels and programs to actually sit down with recruiters from top-tier employers the night before the career fair and build more personal connections through a series of three, 20-minute networking rotations. Instead of having employer booths where students line up to connect in a fast-paced and high-energy way like at the next day's career fair, Diversity Matters filled Benson 401 with nearly 40 round tables, each for a different hiring organization. Each table seated just seven students and two recruiters to facilitate deeper connections over refreshments and give students more time to "hear and be heard" and have their questions answered. 

Now, Diversity Matters has been nationally recognized, earning the "2019 Diversity and Inclusion Excellence Award" from the National Association of Colleges and Employers, and attendance has nearly doubled: over 35 employers and over 200 students connected at the networking program this year.

Lee Svete, associate vice president in the Office of Personal and Career Development (OPCD), said providing opportunities for diverse students to meet with employers in this kind of personalized venue is not always common among colleges and universities.

"Wake Forest's Diversity Matters goes beyond the simple meet and greet reception to provide space for meaningful conversations and connections to internships and job opportunities," said Svete.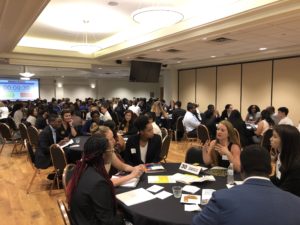 "Employers really enjoy the format that we have," Hicks told the Old Gold & Black. "The first time we did this, I had employers come up to me before they left the event, saying, 'I like this [even] better than the Career Fair!' An intimate conversation with seven or eight students seems like a better way to get to know them."

Svete also noted how this event supports not only the needs and goals of students and employers, but also of Wake Forest University as a community and as an institution. 

"It certainly blends with the institutional commitment," Svete told the Old Gold & Black. "While the impetus came from us, it is still part of the inclusive culture that Wake Forest is trying to establish with 'Pro Humanitate.'"

Next year's Diversity Matters will take place on January 21, 2020, and registration on Handshake is now open. 

Read what one student wrote about Diversity Matters in the Old Gold & Black here.
Recent Posts
June 19, 2020

November 4, 2019

September 23, 2019